Rex Holsapple Photography
Artist's Reception: June 28, 5-7 PM
The Exhibit runs from June 28 – July 23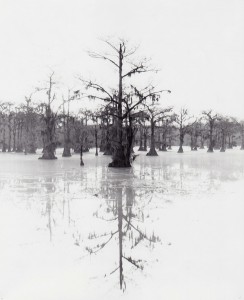 The Lakeside Contemporary Art Gallery, in the lobby of the RFA Lakeside Theater, is hosting an opening reception for the exhibit of Rex Holsapple, a traditional, film-based, black and white photographer.  The Exhibit will be open to the public from 9 AM-2 PM, Monday – Thursday, as well as when the theater is open for events, through July 23.
ARTIST'S STATEMENT:

"The lens of the human eye instinctively projects images onto the retina. The brain pieces together all these two dimensional images to create our perception of the three dimensional world around us. When we look at a person holding a basketball, we do not wonder whether it is a disk which would fall flat on the ground if it were dropped. We are certain it is a ball, which will bounce back when dropped.
We consciously contemplate very little that our eyes see. Of that small portion, awareness usually lasts only a moment before our consciousness moves on to something else. But sometimes we see things. We see in a way that causes us to look and relate for thirty seconds, or thirty minutes, or an hour."
Rex Holsapple has been a student, teacher, manager of foreign exchange risk, chief investment officer, and consultant. Through all of this, photography was a hobby. A few years ago, he realized that if he wanted his photographs to be good, he needed to spend more than one day a week on them. He now makes a full time commitment of emotional, intellectual, and physical energy to photography. He has studied privately with Paul Caponigro, and has attended workshops conducted by Ansel Adams and by John Sexton.
Mr. Holsapple has exhibited his work for the past six years, mostly at juried art festivals in the northeast United States. Nine separate pieces of his photography have been recognized for outstanding work at these venues. Originally from Texas, Mr. Holsapple has been a resident of Mount Vernon, Maine, for fifteen years.
Holsapple develops all the negatives and prints in his own darkroom. The silver gelatin prints are processed to current archival standards, and they should last a hundred years or more without discoloring or fading.
To see more of Holsapple's work, click HERE.
The Lakeside Contemporary Art Gallery is located in the lobby of the RFA Lakeside Theater, 2493 Main St, Rangeley.