Music from the Lake to the Theater
Virtuosity and variety were on display Thursday evening when Rangeley Friends of the Arts (RFA), with Parkside & Main, presented Music from the Lake to the Theater. After playing back-to-back sets at private parties on Rangeley Lake aboard Kevin Sinnett's Scenic Lake Cruises boats Oquossoc Lady and Gray Ghost, Ben Tibbetts as well as Downeast Brass performed a public concert at RFA's Lakeside Theater. Their distinct musical sets were performed against a projected backdrop of the lake at sunset, provided by Jeff Zapolsky's beautiful photograph.
Tibbetts opened the concert with Bach's "Prelude in C Major," BWV 846, immediately taking command of the stage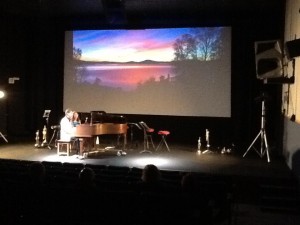 with his talent. He then played pieces  by Grieg and Haydn before one of this reviewer's personal favorites: Satie. The "Three Gymnopedies" were followed by Bartok's "Romanian Rhapsody in Blue" for piano. Gershwin is always a welcome presence in a concert, and this young man will always be a welcome presence on stage. When not in Rangeley, Tibbetts performs and composes in Western Massachusetts.Folk Dances," Sz. 56. The set concluded with Gershwin's arrangement of his "
Downeast Brass is already well-known in Rangeley, having played in previous Music from the Lake events. The group is comprised of Andy Forster, Mike Peterson, Mark Mumme, D. Loren Fields, and Dwight Tibbetts, all active musicians and music teachers in Southern and Central Maine. Their program was varied and included the theme from "Startrek," "Beale Street Blues," Mendelssohn's "Fugue in C Minor," "The Fool on the Hill," Disney's "Aladdin" as a tribute to Robin Williams, "Teddy Bears' Picnic," "Alpine Dance #2," Mozart's "Ave Verum," a Count Basie salute, "Angel Eyes," and the ever-popular "In the Mood." Most of these selections were arranged by their own Dwight Tibbetts. We all joyfully joined in for the encore: "Take Me Out to the Ballgame."
Following the greatly enjoyed and much-applauded performances, concert sponsor Parkside & Main hosted dinner for the performers. This reviewer and several RFA members joined them. The atmosphere was convivial, the food was good, and we all enjoyed conversing with Tibbetts and the band members. Thank you Ben, Andy, Mike, Mark, Loren, Dwight, Jeff, Kevin, and Parkside & Main.
"MUSIC FROM THE LAKE" RETURNS TO RANGELEY WITH A TWIST
Sounds of the ever-popular quintet, Downeast Brass, will once again be floating across the waters of Rangeley Lake on the evening of August 21st.  Kevin and Doreen Sinnett of Rangeley Region Lake Cruises and Kayaking will provide their venerable watercraft, the Oquossoc Lady and the Grey Ghost to transport the musicians to play shore-side at private parties organized as fund-raisers for Rangeley Friends of the Arts.  The quintet will play on board one boat and concert pianist Ben Tibbetts on the other, both  taking a turn to do a set at each party before returning to the Rangeley town landing at around 6:30pm.
Next  the musicians will appear at the RFA Lakeside Theater (thus the "twist") for a public concert as part of Rangeley Friends of the Arts Summer Concert Series, the event sponsored in part by a favorite local restaurant, Parkside and Main.  This time the concert  should probably be titled "Music Near the Lake," and it should be noted here that this is a change of venue, since advance publicity listed the public concert location as Loon Lodge.  A concert in the theater will perhaps be a welcome change for concert goers who have had to deal with many a damp, rainy evening for this event in the past.
Beginning at 7:00 PM, the concert will feature 45-minute sets by both Downeast Brass and classical pianist/composer Ben Tibbetts with a brief intermission in between.
Ben Tibbetts of Western Massachusetts is son of Downeast Brass's trumpeter and director Dwight Tibbitts. He has a BA in Music from the University of New Hampshire and received a Masters of Music in Music Composition from the University of Massachusetts Amherst in 2014.  He has studied piano performance with a number of well-known teachers since 1994 and music composition  with several contemporary composers since 2004.  He will be performing a variety of works by such composers as Bach, Bartok, Chopin, Debussy, Mozart, Satie, Gershwin, and his own works, as well as original arrangements of film music by John Williams, Nino Rota and Michael Giacchino.
Tickets will be available in advance at the Chamber of Commerce and also at the door.  The ticket prices are $12 for adults, and $8 for students (high school age and younger).  For more information please call 864-5571 or  the Chamber at 864-5364..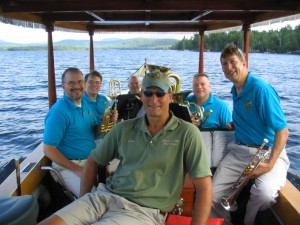 Trumpeter Dwight Tibbetts recieved a Bachelor of Music degree in music education from the University of Southern Maine. He has his Masters in Music from the American Band College in Ashland, Oregon. He was a recipient of the Willie Maiden Award for excellence in composition and arranging. Dwight has taught instrumental music in grades five through twelve for thirty years in Augusta, Maine. He has performed throughout Maine, most recently with the Manchester Brass Quintet. Also an accomplished pianist, Dwight arranges most of the music performed by the Downeast Brass.
Andy Forster has been an instrumental music teacher in the Messalonskee School District for eighteen years. He received his B.M. in Music Education from the University of New Hampshire and his M.M. in Instrumental Conducting from the University of Massachusetts. Mr. Forster has studied trumpet with John Foss, Robert Stibler, Walter Chesnut and Trent Austin. His conducting teachers include Stanley Hettinger, Malcolm Rowell, and Mark Russel Smith. His professional performing experience includes performances with the Downeast Brass Quintet, the UMF Wind Ensemble, the UMF Orchestra, the Bates College Orchestra, the Colby College Orchestra and Jazz Ensemble, the Al Corey Jazz Orchestra, the Brian Nadeau Big Band, the Mount Washington Hotel Jazz Orchestra, the Mayflower Hill Brass Quintet, the Brass Maineiacs, and numerous musical theater productions. Mike Peterson teaches instrumental music in the Messalonskee School District. He received his B.M. in Music Education from the University of Maine, and his B.A. in Psychology from the State University of New York at New Paltz. He has studied trombone with Fred Heath, Hal Janks, and Fred "Moe" Snyder. Mike was also the primary music director for the Waterville Opera House from January of 2005 through April of 2008, and was a guest music director at Colby College in January of 2007. In addition to the Downeast Brass, Mike performs with the Good-Time Sound barbershop quartet. He resides in Oakland with his wife, Amy, and their daughter, Rosemary.
Mark Mumme is the director of instrumental music at Noble High School in North Berwick, Maine. He has also taught in schools in Orono, Maine, and Needham, Massachusetts. He holds a Master's degree in music from the University of Maine. Mark is currently a member of the Bangor Symphony Orchestra and the Casco Bay Concert Band. He has also played tuba with the Blue Hill Brass Quintet, Mainely Brass, the American Band, and the Colby College Orchestra. Mark is also a bassist who has performed regularly with the Phil Rich Band, and has played in numerous musical theater productions.
D. Loren Fields, french horn, is a graduate of Lawrence High School in Fairfield, Maine, where he is presently Director of Bands for grades 7-12. He has a Bachelor of Arts degree in music education from the University of Maine at Orono. Loren has performed with the Bangor and Portland Symphonies, as well as numerous local musical theater productions. He has played french horn in the Augusta Wind ensemble, and the Manchester Brass Quintet. He has performed on stage with Barry Manilow and Colin Raye. Loren has studied with Philip Nesbit, Louis Stout, Robert Abernathy, and Charles Kavalovski. In addition he has been coached by Jens Lindemann., Fred Mills, and David Ohanian, all former members of the Canadian Brass.
The Downeast Brass has performed in many New England settings. Audiences have been impressed by these fine Maine performers on the concert stage, at weddings, festivals, and on parade. They have performed at private parties at the Governor's mansion in Augusta, Maine, at the Mount Washington Hotel in Bretton Woods, New Hampshire, the famous Moxie Parade, and Governor Baldacci's inauguration ceremony, among many other appearances. Their wide range of musical styles makes them the preferred musical choice for many occasions.
The Downeast Brass's founder and arranger, Dwight Tibbetts, has kept the unique talents and skills of his colleagues in mind as he has arranged music specifically for the group. From Andy Forster's pristine high trumpet tones to Mark Mumme's full bass sonority, the Downeast Brass combines the skills of some of Maine's premier musicians. Since they are also music educators, they seek to reach audiences of all ages with original and entertaining programming.