MOVIES 2019
First-Run Digital Movies!
Showtimes as noted – Click on movie title for trailer.
All shows $5 and we'll be poppin' the popcorn…
Fri, Sat & Sun, 
June 14-15-16: SHOWTIMES - 5 & 8 pm
The story of Roman Coleman, a violent convict, who is given the chance to participate in a rehabilitation therapy program involving the training of wild mustangs.  Starring Matthias Schoenaerts, Jason Mitchell and Bruce Dern.  Rated R, Runtime: 1 hr, 36 mins.
We will be on hiatus from movies for two weeks as we rehearse and present our summer musical production: Mamma Mia! Reserve your seats HERE.
Wed & Thurs, 
July 3 & 4: SHOWTIMES - 5 & 8 pm
Journalist Fred Flarsky reunites with his childhood crush, Charlotte Field, now one of the most influential women in the world. As she prepares to make a run for the Presidency, Charlotte hires Fred as her speechwriter and sparks fly.  Starring Charlize Theron, Seth Rogen, June Diane Raphael.  Comedy/Romance - Rated R, Runtime: 2 hrs, 5 mins.
Fri, Sun & Wed, 
July 5, 7 & 10: SHOWTIMES - 5 & 8 pm
After the devastating events of Avengers: Infinity War (2018), the universe is in ruins. With the help of remaining allies, the Avengers assemble once more in order to undo Thanos' actions and restore order to the universe.  Starring Robert Downey Jr., Chris Evans, Mark Ruffalo.  Action/Adventure/Sci-Fi - Rated PG-13, Runtime: 3 hrs, 1 min.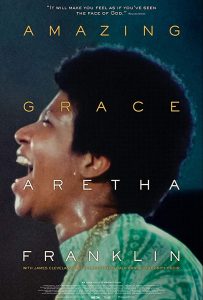 Saturday thru Thursday, July 13-18:
SHOWTIME - 5 pm
A documentary presenting Aretha Franklin with choir at the New Bethel Baptist Church in Watts, Los Angeles in January 1972.   Starring Aretha Franklin, Reverand James Cleveland and the Southern California Community Choir.  Documentary/Music - Rated G, Runtime: 1 hrs, 29 min.
Saturday thru Thursday, July 13-18:
SHOWTIME - 8 pm
Super-assassin John Wick is on the run after killing a member of the international assassin's guild, and with a $14 million price tag on his head - he is the target of hit men and women everywhere.   Starring Keanu Reeves, Halle Berry and Ian McShane.  Action/Crime/Thriller - Rated R, Runtime: 2 hrs, 11 mins.
THANKS TO OUR GENEROUS 2019-2020 MOVIE SPONSORS:
Blue Flame
Bald Mtn Camps
Carolyn Smith - M&F Real Estate
Caryn Dreyfuss
Rangeley World Record Ride
Gingerbread House Restaurant
Lakeside Convenience
Mark Beauregard
Rangeley Pond Hockey Festival
Noyes Realty
Rangeley Building & Remodeling
Rangeley Family Dentistry
Rangeley Family Medicine/Health Reach
Rangeley Health & Wellness
Rangeley IGA
Rangeley Lakes Heritage Trust
Rangeley Region Sport Shop
Seaberg Gallery & Alpacaville
Sunrise View Farm
Wilhelm Reich Museum
Moose Alley
Inner Eye
Snow Source
Phillips Preserve Wilderness Camping