MOVIES, MOVIES, MOVIES!!!! SEE BELOW FOR LISTINGS
Doors open 45 minutes prior to start time, and our full concession stand, including beer/wine, will be available. Closed captioning is available on most movies if requested to concessions staff before the show begins. Any current COVID-19 State Guidelines will be followed.
You can RENT the THEATER:
You and your family are invited to rent the movie theater for $100 to stream or screen your favorite show/movie or XBox/Wii games to enjoy on the BIG SCREEN … for a party of 10 it's only $10 each! …a party of 20 – only $5. Call or email for more info and to reserve your date: rangeleyarts@gmail.com, 207-864-5000.
Showtimes as noted – Click on movie title for trailer.
Patrons 13 and older $7, 12 and under $5 – We'll be poppin' the popcorn…
May 27-29
Showtimes:
May 27 & 28: 5 PM & 8 PM
May 29: 2 PM & 5 PM
Too self-conscious to woo Roxanne himself, wordsmith Cyrano de Bergerac helps young Christian nab her heart through love letters. Starring: Peter Dinklage, Haley BennettKelvin Harrison, Jr. Rated PG-13. 2h 3min. Drama, Musical, Romance.
June 3 – June 5
Showtimes:
June 3 & June 4: 5 PM & 8 PM
June 5: 2 PM & 5 PM
 A Scottish lord becomes convinced by a trio of witches that he will become the next King of Scotland, and his ambitious wife supports him in his plans of seizing power. Starring: Denzel Washington, Frances McDormand, Alex Hassell. Rated R. 1h 45min. Drama, Thriller, War.
June 10 – June 12
Showtimes:
June 10 & June 11: 5 PM & 8 PM
June 12: 2 PM & 5 PM
 A reclusive romance novelist on a book tour with her cover model gets swept up in a kidnapping attempt that lands them both in a cutthroat jungle adventure. Starring: Sandra Bullock, Channing Tatum, Daniel Radcliffe. Rated PG-13. 1h 52min. Action, Adventure, Comedy.
June 17 – June 19
Showtimes:
June 17 & June 18: 5 PM & 8 PM
June 19: 2 PM & 5 PM
 A quiet observation of the triumphs and defeats of daily life, along with the poetry evident in its smallest details. Starring: Adam Driver, Golshifteh Farahani, Nellie. Rated R. 1h 58min. Comedy, Drama, Romance.
June 24 – June 26
Showtimes:
June 24 & June 25: 5 PM & 8 PM
June 26: 2 PM & 5 PM
 Several reformed yet misunderstood criminal animals attempt to become good, with some disastrous results along the way. Voiced by: Sam Rockwell, Marc Maron, Awkwafina. Rated PG. 1h 40min. Animation, Adventure, Comedy.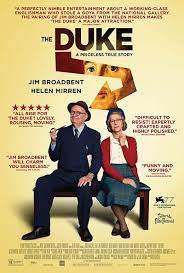 July 6 and 7
Showtimes:
July 6: 5 PM & 8 PM
July 7: 5 PM & 8 PM
In 1961, Kempton Bunton, a 60 year old taxi driver, steals Goya's portrait of the Duke of Wellington from the National Gallery in London. Starring: Jim Broadbent, Helen Mirren. Rated R. 1h 36min. Biography, Comedy, Drama.
July 12 and 13
Showtimes:
July 12: 5 PM & 8 PM
July 13: 5 PM & 8 PM
A film that not only captures the signature annual music and cultural event that has been called America's greatest festival in all of its beauty and glory, but also delves deep into the rich culture of The Big Easy. Starring: Glen David Andrews, Tab Benoit, Jimmy Buffett. Rated PG-13. 1h 34min. Documentary, Music.
July 20 and 21
Showtimes:
July 20: 5 PM & 8 PM
July 21: 5 PM & 8 PM
Follow-up to the 2019 feature film in which the Crawley family and Downton staff received a royal visit from the King and Queen of Great Britain. Starring: Michelle Dockery, Maggie Smith, Tuppence Middleton. Rated PG. 2h 5min. Drama, Romance.
August 10 and 11
Showtimes:
August 10: 5 PM & 8 PM
August 11: 5 PM & 8 PM
A portrait of the Los Angeles Philharmonic music and artistic director Gustavo Dudamel. Starring: Alejandro Carreno, Gustavo Dudamel, Nathaly Al Gindi.  1h 39min. Documentary. This film is not yet rated.
August 24 and 25
Showtimes:
August 24: 5 PM & 8 PM
August 25: 5 PM & 8 PM
An aspiring singer living with his grandmother in the capital of Bhutan dreams of getting a visa to move to Australia. Starring: Sherab Dorji, Ugyen Norbu Lhendup, Kelden Lhamo Gurung.  1h 50min. Drama, Family. This film is not yet rated.
August 31 and September 1
Showtimes:
August 31: 5 PM & 8 PM
September 1: 5 PM & 8 PM
High up on the Tibetan plateau, among unexplored and inaccessible valleys, lies one of the last sanctuaries of the wild world where rare and undiscovered fauna lives. One of the world's most renowned wildlife photographers takes an adventurer with him on his latest mission. For several weeks, they'll explore these valleys trying to spot the snow leopard, one of the rarest and most difficult big cats to approach. Starring: Vincent Munier, Sylvain Tesson.  1h 32min. Documentary. This film is not yet rated.
THANKS TO OUR GENEROUS 2021-2022 MOVIE SPONSORS:
Blue Flame
Bald Mtn Camps
Birds of a Feather Gallery
Carolyn Smith – M&F Real Estate
Caryn Dreyfuss
Inner Eye
Juliet Goodfriend
Lakeside Convenience
Maine Forestry Museum
Mark Beauregard
Moose Alley
Noyes Realty
Phillips Preserve Wilderness Camping
Rangeley Family Dentistry
Rangeley Family Medicine/Health Reach
Rangeley Health & Wellness
Rangeley Historical Society
Rangeley IGA
Rangeley Inn and Tavern
Rangeley Lakes Heritage Trust
Rangeley Public Library
Rangeley Region Sport Shop
Rangeley Saddleback Inn
Snow Source
Sunrise View Farm
Wilhelm Reich Museum
WRGY Radio