Cat's Eye Photography
the work of Cat Nutt
Opening Reception: February 16, 2019, 5:00 – 6:30 PM
Exhibit: February 16 through May 1, 2019
Cat's ardor for photography was undeniably passed down by both of her parents, who bought her first professional camera, taught her many perspectives and always encouraged her numerous adventures to chase her potential. What started as hobbies and dreams quickly blossomed into a professional creative career. In 2009 She attended Lyon College with a generous art scholarship to study both Art and Psychology, hoping to not only see the world but purely experience it and translate that into her own media.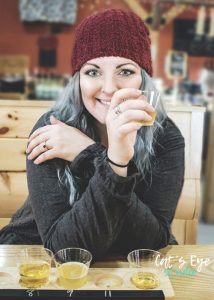 Soon after, Cat's Eye Studio was born. Since then she has been commissioned for Weddings, Modeling, Travel Photography and Fine Art all across the country. She dared to expand her horizons beyond basic posed photography by incorporating an active shooting style with genuine gesture and moody tones. Cat now specializes in Lifestyle photography. She is currently showcasing her new project called "Love and Adventure" where she focuses on her fondness for her home state and the many adventures on which life has taken her.
As a new resident of Rangeley Maine, she hopes to continue growing within the community and aspires to continue her adventures all across her native state and all over the globe.
SERENDIPITY

Community Theater Production
TWO NIGHTS ONLY:
Saturday & Sunday, February 16-17, 2019, 7 PM 

RFA Lakeside Theater
Come enjoy an evening of musical entertainment in the best RFA tradition. "Serendipity" is the story of six talented women who meet in a coffee shop during Nashville's Country Music Awards Festival. They share their misfortunes and triumphs through popular songs and old time favorites. This original story stars: Anne Crump, Sue Downes-Borko, Pam Ellis, Adrian Heatley, Pam Morse and Erin Smith.
Admission: All seats are reserved – Adults: $20/*First-Night (2/16): $15, Youth (18 & under) all shows: $10  –  Tickets are available by clicking HERE Tickets will also be available at the door.
SERENDIPITY is an original musical revue.
*First-Night: an opening night ticket discount to showcase the performers and reward our wonderfully supportive community that enjoys RFA's live theater productions.