The Lakeview Chamber Players
Tim & Sarah Macek & Friends 
Saturday, July 16, 2022, 7:00 PM
RFA Lakeside Theater
Exclusively Sponsored by Tim & Sarah Macek
Rangeley seasonal residents and violinists Tim and Sarah Maček are joined by various musician friends in this very special live concert.
Admission: ​$20 for adults, $10 for students 18 and under. Tickets may be purchased in advance by calling or visiting the Box Office: 207-864-5000, Tuesday-Saturday 10-2. Tickets will also be available at the door.
Tim and Sarah Maček, professional musicians in the Washington, DC area and summer residents of Rangeley, are the founders of The Lakeview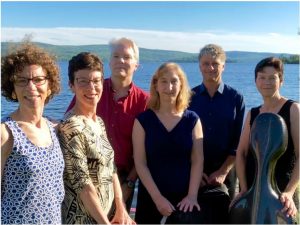 Chamber Players. We are now in our seventh year of concerts partnering with the Rangeley Friends of the Arts to bring our love for music to our "home away from home" community. As these concerts have have become established, we are delighted that our musician friends from Washington and New York now consider Rangeley to be part of their summer schedule as well. Like us, they love the beauty of the lakes and mountains, the sunny days and crisp nights, and the warmth of the people. No longer just our "friends", we are all part of a musical family, and we continue to be inspired by great chamber music, wonderful audiences, and the stunning lakeside setting. Please join Tim and Sarah, along with Morrie, Liz, Uri and Suzanne for another great evening of chamber music this summer!
Tim Macek: violin, has participated in over 3000 performances of opera, ballet, symphonic, and musical show literature, under such conductors as Heinz Fricke, Leonard Slatkin and Mstislav Rostropovich. A member of the of the Kennedy Center/Washington National Opera Orchestra for over 30 years, he is also a faculty member at Howard University, where he is the conductor of the Howard University Symphony Orchestra and Instructor of Violin and Viola. Tim received his Bachelor of Music degree from West Virginia University, and his Master of Music degree from the Hartt School of Music. In the past, he was a member of the Hartford Symphony Orchestra and was on the faculty at the University of Wisconsin–Eau Claire. He is a frequent performer of chamber music in the Washington, DC area as well as in Rangeley, where he and his wife Sarah are summer residents and founded the Lakeview Chamber Players. During the winter, when not rehearsing, teaching or performing, Tim spends too much time scheming to get back to Saddleback to indulge his passion for skiing.
Sarah Macek: violin, performs regularly with the Kennedy Center/Washington National Opera Orchestra, the Washington Ballet Orchestra, the Wolf Trap Opera and the Filene Center Orchestras. During her career, she has performed over 125 operas and musical comedies. She toured extensively throughout the United States with the New York City Opera National Touring Company and was featured on Wolf Trap PBS Specials "Salute to ASCAP" and "An Evening with Victor Borge." She received her Bachelor of Music Degree in Violin Performance from the Juilliard School. Sarah enjoys spending summers at their camp in Rangeley, Maine with her husband Tim. You can usually find her at sunset quietly paddling in her kayak.
Elizabeth Field: violin, enjoys an active career as a chamber musician and soloist on period and modern violin. She is the concertmaster for The Bethlehem Bach Orchestra and has served as a guest concertmaster for numerous ensembles around the country, including the Washington Bach Consort, National Philharmonic, Opera Lafayette, and the Spire Ensemble in Kansas City. Field performs regularly with her chamber ensembles, The Vivaldi Project and ArcoVoce and is a frequent guest artist with the Mallarme Chamber Ensemble and Magnolia Baroque. Elizabeth is currently on the faculty at George Washington University and along with Vivaldi Project Co-Director Stephanie Vial, runs the annual Institute for Early Music on Modern Instruments (EMMI). The Vivaldi Project's critically acclaimed recording of seven unknown 18th-century string trios, Discovering the Classical String Trio, has been heralded as well as groundbreaking: "your library needs a copy of this in its collection" (CD Hotlist). Her collaborative DVD with fortepianist Malcolm Bilson titled: Performing the Score, was lauded by Emanuel Ax as "truly inspiring". Elizabeth has enjoyed a lifelong relationship with Center Sandwich, spending summers in the cabin on Intervale Pond built in 1937 by her grandfather James Ormsbee Murray. Elizabeth's aunt, Helen Murray, enjoyed her retirement in her lovely home on the road to North Sandwich. For more information about Elizabeth, please visit www.thevivaldiproject.org.
Morrie Sherry: clarinet, has combined a career of performing and teaching in the New York metropolitan area. She is a founding member of the NoMa NYC Ensemble and a member of the St. Cecilia Chamber Ensemble where she also serves on its Board of Directors. In her twentyfour years as a festival artist at the Manchester Music Festival, she performed in numerous solo, chamber music and orchestral concerts including the premiere and recording of David Amram's "Starry Night" for solo clarinet and string orchestra. She has performed solo and chamber music recitals at all major concert venues in New York City, most recently at Merkin Concert Hall and the Bruno Walter Auditorium. Ms. Sherry served as principal clarinetist of the Metropolitan Soloists for eighteen seasons. Active as an educator, she teaches clarinet and coaches chamber music at the Kaufman Center in New York City and also maintains a private studio. Ms. Sherry holds a Bachelor of Music degree from the Philadelphia College of Performing Arts and a Master of Music degree from the Juilliard School. She studied with Ben Armato, Leon Russianoff, Ignatius Gennusa and David Glazer and won competitions from the Baltimore Symphony, ClariNetwork International, the Virginia Symphony, and Artists International. For more information about Morrie, please visit www.morriesherry.com.
Suzanne Orban: cello, a native of Annapolis, Maryland, received her Bachelor of Music Degree from Northwestern University and her Master of Music from the University of Maryland. She served as Principal Cello of the Annapolis Symphony and Chamber Orchestra, performed with the Baltimore Opera for many years, and currently is Principal Cello of the Washington Ballet Orchestra. Ms. Orban has also been soloist at the Alba Music Festival in Alba, Italy. She has also been a guest performer with the National Symphony Orchestra, the Washington Opera Orchestra, the Wolf Trap Opera Orchestra, and has played numerous Broadway shows. On a more personal note, her father was born and raised in Brunswick, Maine, and Suzanne spent many happy summers in Maine. Her father lived in nearby Stratton for many years before he passed away, and now her sister enjoys the beautiful land he left behind.
Uri Wassertzug: viola, has performed in locations including Alaska, California, and Utah in the U.S. as well as the UK, Italy, Japan, and New Zealand. He is a member of the Kennedy Center Opera House/ Washington National Opera Orchestra as well as Idaho's Sun Valley Summer Symphony. Mr. Wassertzug is a member of the National Chamber Ensemble and appears frequently on the Kennedy Center's Millennium Concerts series. He has also performed with the San Francisco Opera and Symphony, the National Symphony, the Sacramento Symphony, the Cabrillo Festival, and the California Symphony among many other orchestras. Chamber music appearances and affiliations have included the New Zealand Festival of Chamber Music, Mozart in Monterey, the Foulger International Music Festival, Beau Soir Ensemble, Empyrean Ensemble, Sun Quartet, and Novella Chamber Players. Mr. Wassertzug is on the faculty of George Washington University. His own studies were at the University of Maryland, as a Fellow at the Aspen Music Festival, and the San Francisco Conservatory of Music, where he was awarded the Germaine Prevost Scholarship. Some of his teachers included the members of the Guarneri Quartet, Isadore Tinkleman, and Robert Becker. Away from the viola, Uri enjoys making pizza and has been roasting his own coffee for about 15 years.