Kristin Horton – Natural Connections
Opening Reception:
Friday August 20, 2021 5:00-6:30 PM
The exhibition runs from August 20 through September 7, 2021
Artist Statement: I believe that there is a life force or energy generated from all living and organic things. This force, I believe, is shared, exchanged and expressed all the
time. Being still in art-making allows me to experience these interactions and exchanges. I am drawn to witnessing the energy between people, people and nature and nature itself.
The discipline of materials and composition, the language of art-making, dictates my vocabulary. I try to strike a balance between the tension of
language and my experience. My discipline, I hope, allows me to express these exchanges.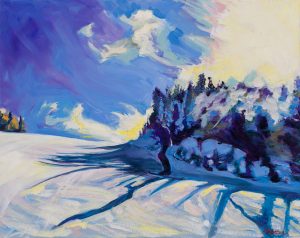 My intent i
s that the context of the subject, the composition of the work, the texture, lines, brushstrokes and colors manifest and expresses these exchanges. I often discover that this actually happens during the process of creating. I also believe that I am attracted to these moments because these elements at the time are coming together in a unified expression.
Seeing instead of looking is truly a gift to my soul.
krishortonart.com. khorton21@earthlink.net