Rangeley Friends of the Arts…
Sponsors the Arts ALL YEAR LONG!
Since 1968, we have presented a Summer Series of concerts and events for our visitors and locals to enjoy.

In 2022 we enjoyed the events below – join us in 2023 for more fun!
Art Receptions at the Lakeside Contemporary Art Gallery,

Live community theater including "Sweeney Todd", and "The Kitchen Table",

Concerts including Jazz, Classical, Rock and Bluegrass music, 

Film Festivals: the Independent ("Indie") Film series, the International Fly Fishing Film Fest and the Maine Outdoor Film Fest,

Concerts with the Rangeley Community Chorus and The PEPS.

Live comedy with Bob Marley & others.
RFA is passionate about arts education. This year, we provided funding for the following arts events which benefited the children of Rangeley Lakes Regional School and our entire region:
We had our fifth year of CASA (Creative After-School Arts) a FREE drop-in arts program for students grade 5-9.

We awarded scholarships to assist local students with private music lessons and dance classes, and coordinated Annual Recitals.

We offered three separate week-long Drama Camps for children ages 7-12 and 13-18.
At RLRS, we provided over $3,000 to sponsor:
Workshops at RLRS and a field trip to the

RFA Lakeside Theater to see the 

Theater at Monmouth
We awarded $1,000 in a scholarship to a graduating senior from RLRS continuing in the arts.  In addition, the Shirley Andersen Memorial Scholarship is available to qualified seniors pursuing further education in music.

We hosted the RLRS school musical, "Big Fish", and provided tech support.
Rangeley Friends of the Arts also has a wonderful tradition of annual events that have continued over a long period of years.
These include:  Art in August Show, the Street Dance, and the Walk to Bethlehem pageant.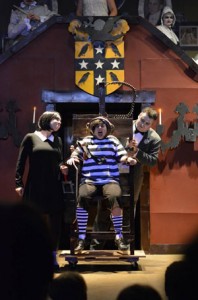 And what would the year be without LIVE THEATER?
Since 1976, we have been presenting an annual musical theater production as well as other live community theater events. Our Community has recently enjoyed: Sweeney Todd, The Death of Robin Hood, Mamma Mia!, Death of a Salesman, Annie, Self-Storage: the contents of our lives, Guys and Dolls, Wedding Belles, The Addams Family, Why Do Fools Fall In Love?, Plaza Suite, Steel Magnolias, Annie Get Your Gun, The Wedding Singer,  SHOUT! The Mod Musical, The Odd Couple, Anything Goes, Nunsense! and Arsenic and Old Lace.
THANK YOU FOR YOUR CONTINUED SUPPORT TO MAKE ALL THIS POSSIBLE!
WE CAN'T WAIT TO SHARE OUR 2023 CALENDAR OF EVENTS WITH YOU!