RFA TEEN Drama Week
July 31 – August 4, 2016, 9:30 AM – 3 PM
RFA Lakeside Theater
Exclusively Sponsored by The Rangeley Lakes Resort.
Let's Get Into the act!
for students entering 7th grade through 12th grade or age 13 through 18 years old
The week will combine improvisation, scene work and developing onstage skills for young actors. Performers will play games and work creatively to explore character development, movement, and story-telling. The camp will include the rehearsal of a short show to be performed at the end of the week.
ACT… LAUGH… LEARN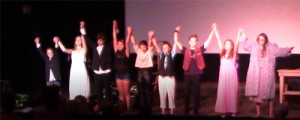 LOTS OF FUN… During the week we will produce a show and focus on the following topics: improvisation, scene work, developing the character, movement, story-telling, reaching your objectives, and developing on-stage skills.
Talley Murphy has directed the RFA teens for the last three years, and has been involved with RFA and Dodgeball Theatre summer youth programs since 2008. She studies theatre at Barnard College, where she's currently completing her senior thesis in directing. Most recently, Talley directed Romeo and Juliet for Awake At 3, A Midsummer Night's Dream for RFA teens, Macbeth in the Basement for the Capital Fringe Festival and A Wrinkle in Time for Columbia University Players. Talley's work focuses on young artists, collaborative productions, and classical texts.
SPACE IS LIMITED – Registrations accepted on first come -first served basis. The cost for the week of fun and professional instruction: $150.  For more details contact: Millie Hoekstra: 207-864-2963 or milliehoek@gmail.com
2016 Teen Drama Week Video: A Midsummer Night's Dream
Slide Show and Talk: "Grizzlies & Friends" with 
Photographer Gary Westerhoff
Friday, August 4, 2017, 7 PM
RFA Lakeside Theater
Exclusively Sponsored by the Westerhoff Family Foundation.
For  the sixth consecutive year, Gary Westerhoff will present an hour-long narrated slide show, "Grizzlies and Friends," on the big movie screen at the RFA Lakeside Theater, 2493 Main Street in Rangeley. Gary is a professional environmental engineer and nature photographer and a summer visitor to the Rangeley area for more than 45 years; he and his wife, Helga, own a house on Rangeley Lake.
There is not a more iconic animal in Alaska and Western Canada than the Grizzly Bear, the majestic symbol of the wild. The bears live in a variety of habitats and are an important part of the ecosystem. Over the past decade, Gary has spent more than 30 days in "grizzly territory'" observing their habits, fly fishing among them, and taking photographs in Alaska and Western Canada. Many of the photographs illustrate the critical role the life cycle of Pacific salmon plays in their life, especially as they prepare for a long period of hibernation.
Gary's images also portray what he calls their "friends," animals that share the same or similar woodlands in which they live. He shows the "big five," consisting of black bears, elk, bighorn sheep, mountain lions and smaller animals including wolves, coyote, fox, raccoon and deer. Many of the images show the intimate relationship between females and their babies.
All attendees are entered into a drawing, with the winner receiving an autographed copy of one of Gary's wildlife books. Light refreshments will be served after the presentation. Admission to the show is free, however, the Rangeley Friends of the Arts will gratefully accept donations to support their local programs.