MIFF in the Mountains

Best of the Maine International Film Festival
Sun – Wed, July 30 – Aug 2, 2017
Eight films over four evenings
5 & 8 PM each night
Sponsored by Juliet J. Goodfriend
The BEST films of the Maine International Film Festival will be shown at MIFF in the Mountains: eight films over four nights, Sunday through Wednesday, July 30 through August 2, at the RFA Lakeside Theater in Rangeley. Film lovers rejoice! A different film at 5 PM and 8 PM each evening. Click HERE for the complete schedule. 
Click HERE to purchase an ALL Festival PASS – $50
Click HERE to buy tickets to individual films: $7 each.
These eight films represent the best of American independent and international cinema. We will also spotlight some of Maine and New England's most exciting and innovative filmmakers.
More than just movies
Audiences also have opportunities to meet and talk with some of the people behind the movies – curators, professors, critics and filmmakers. A complete list of the films, schedule, and guest speakers will be available here by mid-June.
Tickets are available online with the links above. Tickets will also be available for all shows at the door.
RFA TEEN Drama Week
July 31 – August 4, 2016, 9:30 AM – 3 PM
RFA Lakeside Theater
Exclusively Sponsored by The Rangeley Lakes Resort.
Let's Get Into the act!
for students entering 7th grade through 12th grade or age 13 through 18 years old
The week will combine improvisation, scene work and developing onstage skills for young actors. Performers will play games and work creatively to explore character development, movement, and story-telling. The camp will include the rehearsal of a short show to be performed at the end of the week.
ACT… LAUGH… LEARN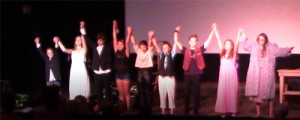 LOTS OF FUN… During the week we will produce a show and focus on the following topics: improvisation, scene work, developing the character, movement, story-telling, reaching your objectives, and developing on-stage skills.
Talley Murphy has directed the RFA teens for the last three years, and has been involved with RFA and Dodgeball Theatre summer youth programs since 2008. She studies theatre at Barnard College, where she's currently completing her senior thesis in directing. Most recently, Talley directed Romeo and Juliet for Awake At 3, A Midsummer Night's Dream for RFA teens, Macbeth in the Basement for the Capital Fringe Festival and A Wrinkle in Time for Columbia University Players. Talley's work focuses on young artists, collaborative productions, and classical texts.
SPACE IS LIMITED – Registrations accepted on first come -first served basis. The cost for the week of fun and professional instruction: $150.  For more details contact: Millie Hoekstra: 207-864-2963 or milliehoek@gmail.com
2016 Teen Drama Week Video: A Midsummer Night's Dream
RFA Home Tour 
Tuesday, August 1, 2017
Home Tour: 12:30 am – 3:30 pm
and "Taste of Rangeley"
Taste of Rangeley: 3:30 pm at
The Loon Lodge Inn & Restaurant
The Home Tour is Exclusively Sponsored by Rangeley Lakes Builders Supply and Welcome Home.

The Taste of Rangeley is Exclusively Sponsored by the Loon Lodge Inn & Restaurant.
The self-guided tour will showcase some of the area's most interesting homes.  The "Taste of Rangeley" will include unique light appetizers from the creative chefs of our Rangeley Region restaurants.
Admission to all homes and to the Taste of Rangeley: $25.
Your Program with Descriptions and Directions is available by clicking HERE.
Tickets are available by clicking HERE.  Please present your ticket at the first location to receive your pass to the rest of the homes and the Taste of Rangeley.